New Zealand Radio News:
Treasury has confirmed that a feature in its website search tool was exploited by an unknown person, but police have concluded this did not break the law.
British Broadcasting Company:
Johnson to appear in court over £350m claim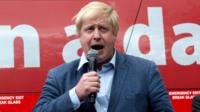 He is accused of misconduct in public office for his claim during the EU referendum in 2016.
Australian Broadcasting Company:
Rodger Muller, the everyday Australian who went undercover inside the NRA
It all began with a phone call from an old friend. Little did Rodger Muller know that it would change… More
Canadian Broadcasting Company:
'I felt nothing, just clear & complete emotionless darkness': OCD almost cost ex-NHL player his life
He was at the top of his game professionally, but off the ice, Corey Hirsch was struggling. The former NHL player publicly reveals his struggles with obsessive compulsive disorder.
ABOUT THIS PAGE:
Tweet
News From News Agencies Representing 5 Eyes Governments
This page monitors on an irregular basis - frequently and throughout the day - the news content of state press agencies for the member states of 'Five Eyes', a network of imperial states participating in a global intelligence program first brought to public prominence by Edward Snowden. The "Five Eyes" member states are: New Zealand, Canada, the United Kingdom, Australia and the United States.
Thus, a good shorthand for this page(s) is to think: "what are the Anglo-Imperial states doing or selling to their domestic public today?" . By no means, however, are the views expressed between those "Five Eyes" members monolithic. To the extent that their respective publics are empowered, the news content will reflect an opinion usually 'left-of-center' relative to the corporate US press.
Since the US government lacks an official state agency conveying the demeanor and propaganda priorities of its position, we instead provide a composite of corporate outlets. These outlets give a sense of what business friendly opinion defines the US press currently. Voice of America counts, however, as an official distributor of US propaganda, but we opt to not include them.