Raleigh News & Observer:
Potential closure of this downtown Durham street casts cloud over light rail plans
New Zealand Radio News:
Air New Zealand and the unions representing the company's engineers have reached an agreement, lifting the strike notice that threatened to disrupt travel for 120,000 customers in the lead up to Christmas.
British Broadcasting Company:
Theresa May faces no confidence vote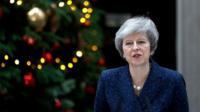 The prime minister vows to fight for her job and warns that a change would put Brexit at risk - as a majority of Tory MPs say they will back her.
Australian Broadcasting Company:
Theresa May fights leadership revolt, warns Brexit in peril
British Prime Minister Theresa May says she will contest the vote with everything she has got, arguing… More
Canadian Broadcasting Company:
'Evolution didn't work on truth, it worked on survival': A psychologist explains why we cling to our beliefs
People will find a way to defend their beliefs even when faced with contradictory evidence, says psychologist James Alcock. He explains why we believe what we believe, and how evolution played a role.
ABOUT THIS PAGE:
Tweet
News From News Agencies Representing 5 Eyes Governments
This page monitors on an irregular basis - frequently and throughout the day - the news content of state press agencies for the member states of 'Five Eyes', a network of imperial states participating in a global intelligence program first brought to public prominence by Edward Snowden. The "Five Eyes" member states are: New Zealand, Canada, the United Kingdom, Australia and the United States.
Thus, a good shorthand for this page(s) is to think: "what are the Anglo-Imperial states doing or selling to their domestic public today?" . By no means, however, are the views expressed between those "Five Eyes" members monolithic. To the extent that their respective publics are empowered, the news content will reflect an opinion usually 'left-of-center' relative to the corporate US press.
Since the US government lacks an official state agency conveying the demeanor and propaganda priorities of its position, we instead provide a composite of corporate outlets. These outlets give a sense of what business friendly opinion defines the US press currently. Voice of America counts, however, as an official distributor of US propaganda, but we opt to not include them.