New Zealand Radio News:
Prince William has met some of the first responders to last month's mosque attacks, during a brief, high-security visit to Christchurch's Justice Precinct this afternoon. Video
British Broadcasting Company:
UK warns against Sri Lanka travel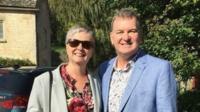 The UK advises against all but essential travel to Sri Lanka after the Easter Sunday bombings.
25 April 2019

From the section

UK
Australian Broadcasting Company:
'Very big assumption': PM questions terror arrest's link to Gallipoli service
Scott Morrison cautions people against "overstating any link between" an arrest made by Turkish police… More
Canadian Broadcasting Company:
How Jeopardy champ James Holzhauer is 'showing everyone how to play the game perfectly'
Future Jeopardy contestants will likely try to emulate current champ James Holzhauer's winning strategy, says superfan Andy Saunders — but they probably won't succeed. 
ABOUT THIS PAGE:
Tweet
News From News Agencies Representing 5 Eyes Governments
This page monitors on an irregular basis - frequently and throughout the day - the news content of state press agencies for the member states of 'Five Eyes', a network of imperial states participating in a global intelligence program first brought to public prominence by Edward Snowden. The "Five Eyes" member states are: New Zealand, Canada, the United Kingdom, Australia and the United States.
Thus, a good shorthand for this page(s) is to think: "what are the Anglo-Imperial states doing or selling to their domestic public today?" . By no means, however, are the views expressed between those "Five Eyes" members monolithic. To the extent that their respective publics are empowered, the news content will reflect an opinion usually 'left-of-center' relative to the corporate US press.
Since the US government lacks an official state agency conveying the demeanor and propaganda priorities of its position, we instead provide a composite of corporate outlets. These outlets give a sense of what business friendly opinion defines the US press currently. Voice of America counts, however, as an official distributor of US propaganda, but we opt to not include them.