Chicago Tribune:
From Sears Tower to the suburbs: Retailer was a pioneer in the 'reverse commute'
Raleigh News & Observer:
'Almost every dog will be out of time tomorrow' without help, NC shelter says
New Zealand Radio News:
National leader Simon Bridges says Jami-Lee Ross's allegations he broke electoral law are "baseless" and "entirely false". Follow all the latest developments here.
British Broadcasting Company:
Meghan and Harry expecting baby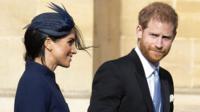 The Duchess of Sussex is due to give birth in the spring, Kensington Palace says.
15 October 2018

From the section

UK
Australian Broadcasting Company:
Paradise or future 'slums'? Welcome to Australia's fastest-growing suburb
As Australia's population hurtles towards 40 million by 2050, where will they all live?
Canadian Broadcasting Company:
Watch
A mass arrest of Greek men. A cruel immigration officer found murdered
After anti-immigrant laws lead to mass arrests, Brackenreid regrets releasing his carpenter when he's suspected of murder. Watch now.
ABOUT THIS PAGE:
Tweet
News From News Agencies Representing 5 Eyes Governments
This page monitors on an irregular basis - frequently and throughout the day - the news content of state press agencies for the member states of 'Five Eyes', a network of imperial states participating in a global intelligence program first brought to public prominence by Edward Snowden. The "Five Eyes" member states are: New Zealand, Canada, the United Kingdom, Australia and the United States.
Thus, a good shorthand for this page(s) is to think: "what are the Anglo-Imperial states doing or selling to their domestic public today?" . By no means, however, are the views expressed between those "Five Eyes" members monolithic. To the extent that their respective publics are empowered, the news content will reflect an opinion usually 'left-of-center' relative to the corporate US press.
Since the US government lacks an official state agency conveying the demeanor and propaganda priorities of its position, we instead provide a composite of corporate outlets. These outlets give a sense of what business friendly opinion defines the US press currently. Voice of America counts, however, as an official distributor of US propaganda, but we opt to not include them.