News From News Agencies Representing 5 Eyes Governments
Tweet
This page monitors on an irregular basis - frequently and throughout the day - the news content of state press agencies for the member states of 'Five Eyes', a network of imperial states participating in a global intelligence program first brought to public prominence by Edward Snowden. The "Five Eyes" member states are: New Zealand, Canada, the United Kingdom, Australia and the United States.
Thus, a good shorthand for this page(s) is to think: "what are the Anglo-Imperial states doing or selling to their domestic public today?". By no means, however, are the views expressed between those "Five Eyes" members monolithic. To the extent that their respective publics are empowered, the news content will reflect an opinion usually 'left-of-center' relative to the corporate US press.
Since the US government lacks an official state agency conveying the demeanor and propaganda priorities of its position, we instead provide a composite of corporate outlets. These outlets give a sense of what business friendly opinion defines the US press currently. Voice of America counts, however, as an official distributor of US propaganda, but we opt to not include them.
New Zealand Radio News
Opinion - When Jacinda Ardern gives birth this week she'll become the second world leader to do so - and she'll be one of us, Olivia Wix writes.
British Broadcasting Company
'Hope' for fire-ravaged art school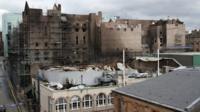 The leader of Glasgow City Council says they are "certainly not writing off the Mackintosh building yet".