Chicago Tribune:
Police: Boy, 3, among 7 shot in West Englewood during single attack; teen shoots self in head after police pursuit
Raleigh News & Observer:
UNC Asheville students cleared to move into dorms after agencies settle safety dispute
New Zealand Radio News:
Father and son Neil and Liam Finn talk to Kim Hill about their new album Lightsleeper, which is out on 24 August. Audio
British Broadcasting Company:
Rise in type 2 diabetes in under-25s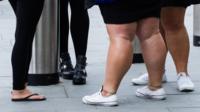 Child health experts say the rise is "alarming" and more should be done to reduce obesity.
18 August 2018

From the section

Health
Australian Broadcasting Company:
Turnbull's backdown on energy fails to appease Coalition detractors
Malcolm Turnbull's decision to dump a plan to legislate Paris emissions targets fails to placate some… More
Canadian Broadcasting Company:
New Series
A nurse steals her best friend's identity & starts a new life as an ER doctor
Driven to desperate measures, nurse Cath Hardacre steals the identity of her best friend & begins a new life as Dr. Ally Sutton. But how long can she live a lie? Watch now.
ABOUT THIS PAGE:
Tweet
News From News Agencies Representing 5 Eyes Governments
This page monitors on an irregular basis - frequently and throughout the day - the news content of state press agencies for the member states of 'Five Eyes', a network of imperial states participating in a global intelligence program first brought to public prominence by Edward Snowden. The "Five Eyes" member states are: New Zealand, Canada, the United Kingdom, Australia and the United States.
Thus, a good shorthand for this page(s) is to think: "what are the Anglo-Imperial states doing or selling to their domestic public today?" . By no means, however, are the views expressed between those "Five Eyes" members monolithic. To the extent that their respective publics are empowered, the news content will reflect an opinion usually 'left-of-center' relative to the corporate US press.
Since the US government lacks an official state agency conveying the demeanor and propaganda priorities of its position, we instead provide a composite of corporate outlets. These outlets give a sense of what business friendly opinion defines the US press currently. Voice of America counts, however, as an official distributor of US propaganda, but we opt to not include them.