Raleigh News & Observer:
Calling it 'the new normal,' feds arrest 200 undocumented immigrants in NC this week
New Zealand Radio News:
The fire burning more than 2000 hectares of Nelson bush is closing in on the town of Wakefield as 23 helicopters, two planes and 150 firefighters today worked in what emergency services say is a changeable situation.
British Broadcasting Company:
No-deal Brexit ferry contract scrapped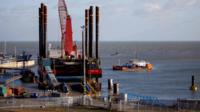 The Irish backers of Seaborne Freight - which owned no ships - have pulled out of the deal.
9 February 2019

From the section

Business
Australian Broadcasting Company:
Federal Government commits to $662 million aged care funding boost
The Federal Government commits to providing an additional $662 million in funding for a wide range of… More
Canadian Broadcasting Company:
WATCH
These 12-year-old twins have never cut their hair — until now
These boys have never cut their hair. Now, as part of a Cree coming-of-age ceremony, they are. And with it, they're bringing back a tradition that had been lost. Watch now.
ABOUT THIS PAGE:
Tweet
News From News Agencies Representing 5 Eyes Governments
This page monitors on an irregular basis - frequently and throughout the day - the news content of state press agencies for the member states of 'Five Eyes', a network of imperial states participating in a global intelligence program first brought to public prominence by Edward Snowden. The "Five Eyes" member states are: New Zealand, Canada, the United Kingdom, Australia and the United States.
Thus, a good shorthand for this page(s) is to think: "what are the Anglo-Imperial states doing or selling to their domestic public today?" . By no means, however, are the views expressed between those "Five Eyes" members monolithic. To the extent that their respective publics are empowered, the news content will reflect an opinion usually 'left-of-center' relative to the corporate US press.
Since the US government lacks an official state agency conveying the demeanor and propaganda priorities of its position, we instead provide a composite of corporate outlets. These outlets give a sense of what business friendly opinion defines the US press currently. Voice of America counts, however, as an official distributor of US propaganda, but we opt to not include them.