News From News Agencies Representing 5 Eyes Governments
Tweet
This page monitors on an irregular basis - frequently and throughout the day - the news content of state press agencies for the member states of 'Five Eyes', a network of imperial states participating in a global intelligence program first brought to public prominence by Edward Snowden. The "Five Eyes" member states are: New Zealand, Canada, the United Kingdom, Australia and the United States.
Thus, a good shorthand for this page(s) is to think: "what are the Anglo-Imperial states doing or selling to their domestic public today?". By no means, however, are the views expressed between those "Five Eyes" members monolithic. To the extent that their respective publics are empowered, the news content will reflect an opinion usually 'left-of-center' relative to the corporate US press.
Since the US government lacks an official state agency conveying the demeanor and propaganda priorities of its position, we instead provide a composite of corporate outlets. These outlets give a sense of what business friendly opinion defines the US press currently.
New Zealand Radio News
A two-week operation to rescue two climbers stranded in an ice cave on Mt Cook in 1982 had to deal with atrocious weather and a crashed helicopter. Don Bogie remembers the drama. Audio
British Broadcasting Company
May to warn tech firms on terror content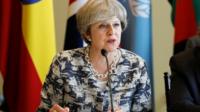 The prime minister will say firms must go "further and faster" in removing extremist content.
Canadian Broadcasting Company:

Powerful earthquake in Mexico leaves many dead

A magnitude 7.1 earthquake rocked central Mexico on Tuesday. Dozens of buildings collapsed & thousands ran into the streets in panic. Rescuers are searching for people who might be trapped. Get the latest at cbcnews.ca